Last year at VMworld 2021, VMware mentioned and announced a lot of (new) projects they are working on. What happened to them and which new VMware projects have been mentioned this year at VMware Explore so far?
Project Ensemble – VMware Aria Hub
VMware unveiled their unified multi-cloud management portfolio called VMware Aria, which provides a set of end-to-end solutions for managing the cost, performance, configuration, and delivery of infrastructure and cloud native applications.
VMware Aria is anchored by VMware Aria Hub (formerly known as Project Ensemble), which provides centralized views and controls to manage the entire multi-cloud environment, and leverages VMware Aria Graph to provide a common definition of applications, resources, roles, and accounts.
VMware Aria Graph provides a single source of truth that is updated in near-real time. Other solutions on the market were designed in a slower moving era, primarily for change management processes and asset tracking. By contrast, VMware Aria Graph is designed expressly for cloud-native operations.
VMware Explore US 2022 Session: A Unified Cloud Management Control Plane – Update on Project Ensemble [CMB2210US]
Project Monterey – DPU-based Acceleration for NSX
Last year introduced as Project Monterey and in technology preview, VMware announced the GA version of Monterey called DPU-based Acceleration for NSX yesterday.
Project Arctic – vSphere+ and vSAN+
Project Arctic has been introduced last year as a Technology Preview and was described as "the next step in the evolution of vSphere in a multi-cloud world". What has started with the idea of bringing VMware Cloud services closer to vSphere, has evolved to a even more interesting and enterprise-ready version called vSphere+ and vSAN+. It includes developer services that consist of the Tanzu Kubernetes Grid runtime, Tanzu Mission Control Essentials and NSX Advanced Load Balancer Essentials. VMware is going to add more and more VMware Cloud add-on services in the future. Additionally, VMware even introduced VMware Cloud Foundation+.
Project Iris – Application Transformer for VMware Tanzu
VMware mentioned Project Iris very briefly last year at VMworld. In February 2022, Project Iris became generally available and is since then known as Application Transformer for VMware Tanzu.
Project Northstar
At VMware Explore on day 1, VMware introduced Project Northstar, which will provide customers a centralized cloud console that gives them instant access to networking and security services, such as network and security policy controls, Network Detection and Response (NDR), NSX Intelligence, Advanced Load Balancing (ALB), Web Application Firewall (WAF), and HCX. Project Northstar will be able to apply consistent networking and security policies across private cloud, hybrid cloud, and multi-cloud environments.
VMware Explore US 2022 Session: Multi-Cloud Networking and Security with NSX [NETB2154US]
Project Watch
At VMware Explore on day 1,VMware unveiled Project Watch, a new approach to multi-cloud networking and security that will provide advanced app-to-app policy controls to help with continuous risk and compliance assessment. In technology preview, Project Watch will help network security and compliance teams to continuously observe, assess, and dynamically mitigate risk and compliance problems in composite multi-cloud applications.
Project Trinidad
Also announced at VMware Explore day 1 and further explained at day 2, Project Trinidad extends VMware's API security and analytics by deploying sensors on Kubernetes clusters and uses machine learning with business logic inference to detect anomalous behavior in east-west traffic between microservices.
Project Narrows
Project Narrows introduces a unique addition to Harbor, allowing end users to assess the security posture of Kubernetes clusters at runtime. Images previously undetected, will be scanned at the time of introduction to a cluster, so vulnerabilities can now be caught, images may be flagged, and workloads quarantined.
Project Narrows adding dynamic scanning to your software supply chain with Harbor is critical. It allows greater awareness and control of your running workloads than the traditional method of simply updating and storing workloads.
VMware is open sourcing the initial capabilities of Project Narrows on GitHub as the Cloud Native Security Inspector (CNSI) Project.
VMware Explore US 2022 Session: Running App Workloads in a Trusted, Secure Kubernetes Platform [VIB1443USD]
Project Keswick
Also introduced on day 2, Project Keswick is about simplifying edge deployments at scale. It comes as an xLabs project coming out of the Advanced Technology Group in VMware's Office of the CTO.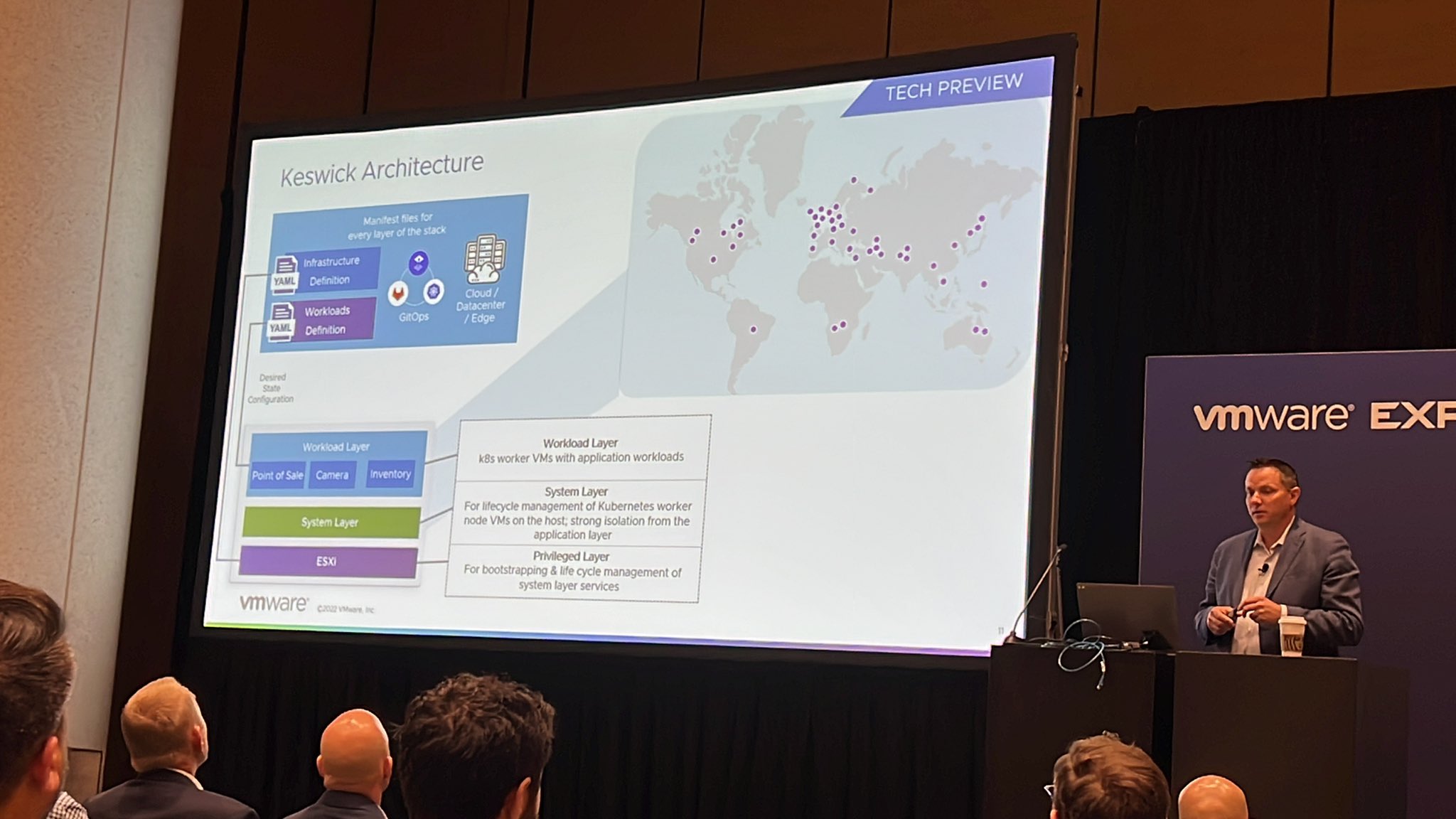 A Keswick deployment is entirely automated and uses Git as a single source of truth for a declarative way to manage your infrastructure and applications through desired state configuration enabled by GitOps. This ensures the infrastructure and applications running at the edge are always exactly what they need to be.
VMware Explore US 2022 Session: Edge Computing: What's Next? [VIB1457USD]
Project Newcastle
At VMworld 2021, VMware talked the first time (I think) about cryptographic agility and even showed a short demo of a Post Quantum Cryptography (PQC) enabled Unified Access Gateway (using a proxy-based approach): 
At VMware Explore 2022 day 2, VMware demonstrated what they believe to be the world's first quantum-safe multi-cloud application!
VMware developed and presented Project Newcastle, a policy-based framework enabling and orchestrating cryptographic transition in modern applications.
Integrated with Tanzu Service Mesh, Project Newcastle gives users greater insight into the cryptography in their applications. But that's not all — as a platform for cryptographic agility, Project Newcastle automates the process of reconfiguring an application's cryptography to comply with user-defined policies and industry standards.
Closing Comment
Which VMware projects excite you the most? I'm definitely going with Project Ensemble (Aria Hub) and Project Newcastle!