I do not know if I can attend VMware Explore this year, but if you have the possibility to travel to Las Vegas, Barcelona, or any other location, do not hesitate to register, and book your flights and hotel.
In 2019, I received an employee Explore pass for VMworld (that is what it was called before VMware Explore) because I was accepted as a proctor for the hands-on labs (HOL) area. Since my shifts were during the day, I couldn't attend any of the sessions, but I met so many customers, partners, and some VMware colleagues from different countries for the first time.
Reason 1 – Hands-On Labs (HOL)
If you are still new to VMware and/or would like to check out other/new products, then you will benefit from the HOL area and its offerings. HOLs provide a quick and very easy way to access VMware products. There are so-called "Lightning Labs" which take around 30min. If you have more time or you want to test a new feature or use case, such exercises take up to 60min.
In case you are an experienced VMware engineer, you should register yourself for the VMware Odyssey tournament and compete with others. Winners can get awesome prizes! 🙂
Reason 2 – Networking
VMware Explore gives you the chance to meet (new) people, explore new ideas, and make new friends. There are community tech talks, meet-the-expert round tables, and a lot of booths. Do not be shy. 
First VMware Explore in 2022
Last year's events were special. VMware renamed its VMworld conference to VMware Explore, which focuses on multi-cloud and application modernization topics. There are more sessions from other vendors, partners, industry leaders, experts etc.
I could attend VMware Explore Europe and I have to tell you this: It was crazy!
And I finally had the chance between my duties and customer meetings to attend some sessions to learn new things.
Reason 3 – Learning
There is never a better opportunity to learn new things and ask your questions. You have all the VMware evangelists, partners, other customers, and VMware technologists gathered in one place.
Take advantage and benefit from this possibility. Do not forget to build up your agenda and register yourself early to secure a seat.
Reason 4 – Customer Technical Exchange (CTEX)
I am part of the EMEA team that organizes the CTEX sessions. These are exclusive technical NDA sessions, for which you have to register yourself as well. As soon as the registration website is online, you will be informed by your VMware contacts or wait for the announcements on social media. These were the sessions from last year: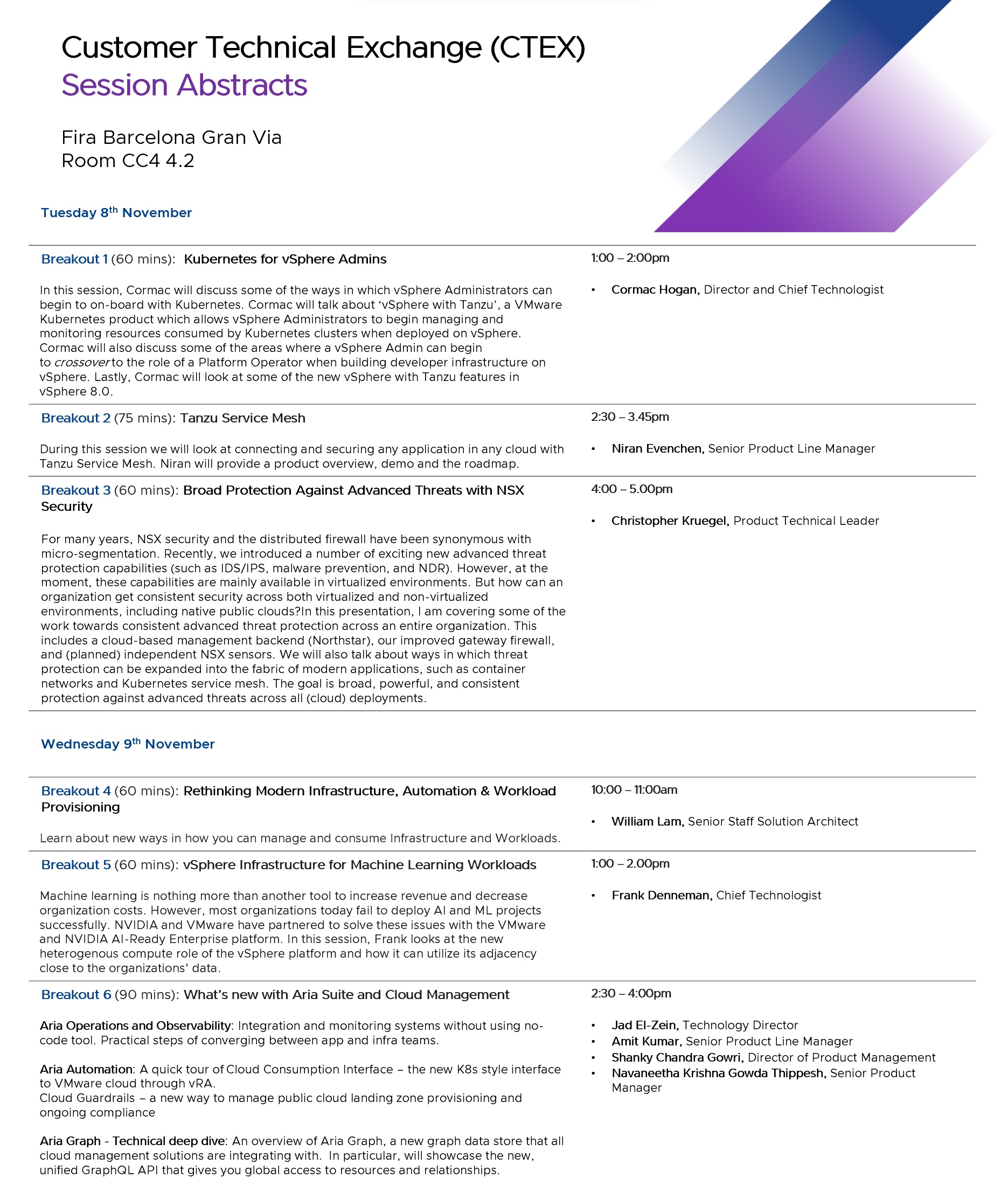 My Session Recommendations for Explore US
Aside from the general session and solution keynotes, I recommend registering for these sessions:
Cloud Data Infrastructure: Strategy and Product Portfolio [VIB1643LV] – In this breakout session, you will learn about the latest innovation at VMware regarding data services and data management. See a demo in action, and hear technical leaders share practical learnings that will help your organization become a true data-driven company.
10 Exciting Things to Know About VMware Ransomware and Disaster Recovery [CEIB2561LV] – This year, we are announcing some exciting innovations that will take this unique solution to new heights and further differentiate it from the rest of the industry. In addition, we are introducing some new capabilities across our disaster recovery portfolio to address all your data protection needs for all your workloads.
60 Minutes of NUMA – A CPU is not a CPU anymore [CODEB2761LV] – Besides the traditional deep dive of NUMA scheduling, we will discuss the new vSphere 8 functionality solving the age-old question, how many cores per socket? We will show real-life data on NUMA-locality's importance for a Machine Learning\HPC application that runs on GPUs. We will look at the latest CPU architecture developments, such as the Sapphire Rapids' new onboard accelerators, which can help you guide your data center hardware refresh.
A deep dive into Kubernetes policy management for distributed systems [MAPB2901LVD] – In this session, we'll review how platform teams can leverage Tanzu Mission Control to apply several types of policies, including access, network, image registry, quota, security, custom, and the recently launched mutation policies.
Machine Learning in VMware Aria Hub and VMware Aria Graph [MAPB2467LV] – Want to learn how VMware Aria Hub and VMware Aria Graph facilitate AI/machine learning (ML) use cases for cloud management? With the consolidation of the VMware Cloud inventories into the platform, new ML capabilities are being built on top of VMware Aria Graph. These capabilities are for our customers to use directly, and they also feature within and enhance some of the broader VMware Aria and VMware Tanzu products.
Where can I find more information?
These are the events planned for this year:
Registration – https://www.vmware.com/explore.html 
Content Catalog VMware Explore 2023 Las Vegas – https://event.vmware.com/flow/vmware/explore2023lv/content/page/catalog 
Activities – https://www.vmware.com/explore/us/engage/activities.html 
Focused Programs – https://www.vmware.com/explore/us/engage/programs.html